How Often To Seal An Asphalt Driveway
If you have an asphalt driveway, you'll need to spend a bit more time on maintenance than you would with concrete. In order to keep asphalt looking great and functioning properly, you will need to seal it every so often. Neglecting your asphalt driveway can have serious repercussions, so you'll want to remember to seal it before it gets to the point of having to replace it. But how often should you seal it?
In Minnesota where we have notoriously harsh winters, it is especially important to seal your driveway. If your asphalt driveway has even a small crack or hole, water may leak into it and expand as it freezes. Sealing your driveway can ensure your driveway lasts as long as possible.
When Should I Seal My Asphalt Driveway?
Generally, the rule of thumb is that you should seal your asphalt driveway every two to three years. In harsh conditions such as Minnesota winters, every two years is strongly recommended. If you notice excessive fading or cracking at the two-year mark, it's time to reseal. Small cracks can grow quickly and large cracks and holes will need to be repaired before sealing, so it's best to not let your driveway get to that point. If your driveway is still looking great and is without damage and fading, waiting until the third year to seal it will be fine, However, it is not recommended to wait any longer than three years. In addition, don't get over-ambitious with your driveway. You may think that sealing it every year will keep it in pristine condition, but that may not be true. Sealing every year could cause cracking and peeling of the sealcoat. In addition, sealing your driveway too early could cause oils to become trapped in the asphalt resulting in your driveway becoming too flexible. So while you may mean well, it's not recommended to seal your asphalt driveway every single year.
If you are at the two or three-year mark and have decided that it is time to seal, the weather conditions in your region will decide when is the best time to do so.
Optimal Weather For Sealing Your Asphalt Driveway
In order for your sealer to dry properly, the temperature should be at least 50 degrees Fahrenheit. However, there are additional environmental factors to consider as well. If rain is in the forecast or the leaves are falling from your trees, the conditions are not ideal for sealing your driveway.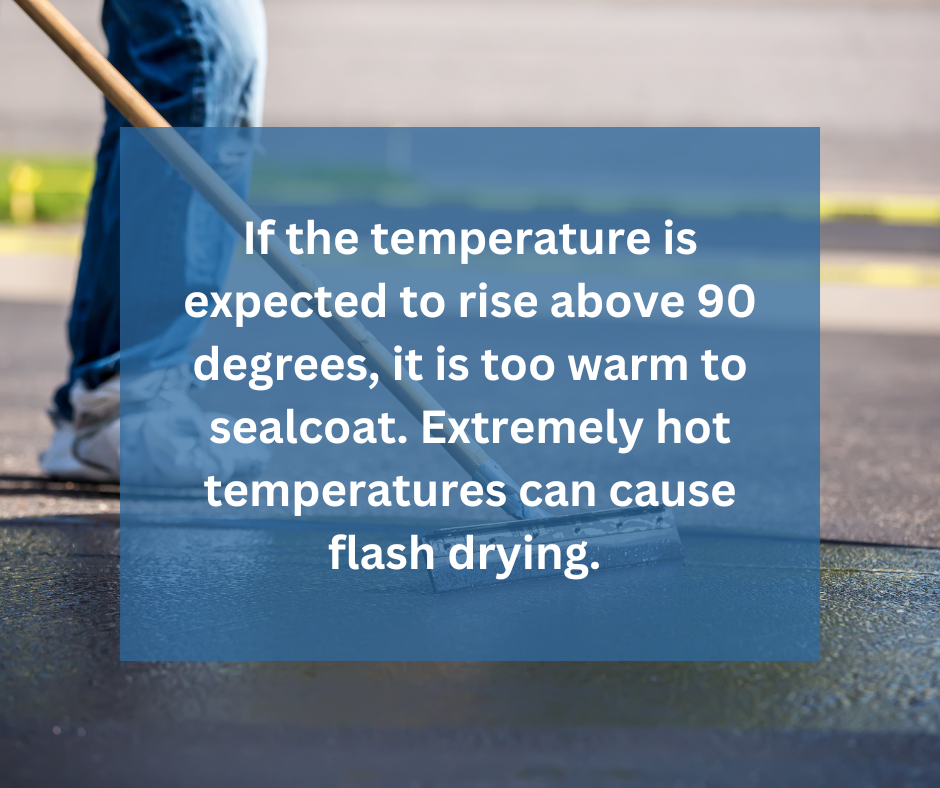 When the sealer is not properly cured and is flexible, tracking from vehicles and even foot traffic can occur causing permanent damage to your driveway.
Can I Seal My Asphalt Driveway Myself?
Many people can and do seal their own asphalt driveways. However, it is a tedious process that requires optimal weather conditions. If you are uncertain about the best time to seal your asphalt driveway or just not cut out for the amount of time it takes, or the mess involved, we are here to help.
Life expectancy for asphalt driveways is 15-20 years with proper maintenance. We're dedicated to your property's upkeep and guarantee our work with our team of trained, talented, and experienced contractors. We understand what it takes to meet your expectations and, with our competitive price structure, quality of work, and willingness to adhere to your standards, we will do just that.
To learn more, contact Aurora Asphalt & Concrete and request a free estimate today!